How to connect the LiveV400 to the internet
The LiveV400 can connect to the internet through WIFI, Ethernet, 4G or 5G. The LiveV400 offers 1* 5G LTE channel and 5* 4G LTE channels (including 2 built-in 4G and 3 external 4G), 1 built-in WIFI and 1 Gigabit Ethernet port. The bandwidth of all these connections (bonding) can be combined for a higher quality and more stable live stream.
If WIFI is required, first reach the interface as seen below.
Menu ->Network->WIFI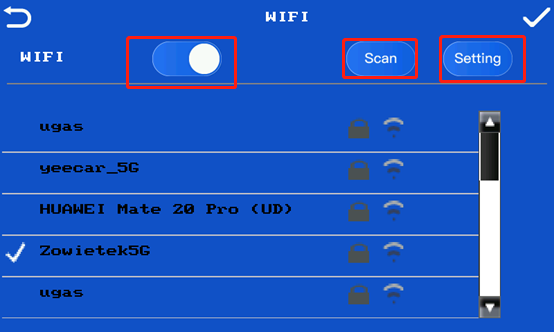 Open the "WIFI" button and press the button" Scan". Choose the WIFI required, click it, and press the password. Now the LiveV400 have connected to the Internet.
If you can't scan the WIFI, press the button "Setting", and enter the SSID and Password to connect to the WIFI.
If the SIM card is required, click the link below.
Instructions for how to use SIM card to connect to the network.