How do I stream to YouTube live with vMix?
To begin with, you need to connect the camera to the network and adjust it according to your own network environment. Please make sure that your PTZ camera, router, and computer are in the same network segment.
Step 1: Click

    and Choose Go Live.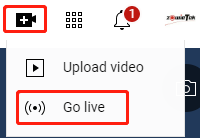 Step 2: Copy the Stream URL and Stream Key.
Step 3: Click the Stream button and select the destination as seen below. Paste the URL and Stream Name or Key.
Now you can stream to Youtube and go live.