How to set VISCA/Pelco-D/Pelco-P protocol at PTZ controller and PTZ camera
NOTE: The PTZ camera remote control settings parameters must be consistent with the Camera Controller settings, otherwise the Camera Controller cannot control the PTZ camera. The addresses under different protocols can be the same or different, but under the VISCA protocol, PTZ camera address range: 1 to 7, under the Pelco-P/Pelco-D protocol, PTZ camera address range: 0 to 255.
In normal working mode, press [

MENU

] key to display the menu, using scroll arrow to point at or highlight the selected items.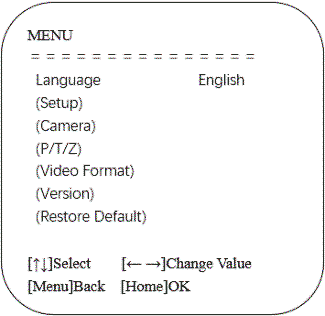 Using scroll arrow to "SETUP", enter into "system setting".
VISCA Address: 1~7
PELCO-P Address: 0~255
PELCO-D Address: 0~255
Baudrate: 9600
PTZ Setup E.g.  With address code 28, steps to change to VISCA/PELCO-D/PELCO-P protocol and baud rate to 9600 are as follows: Press [

SETUP

] button for 3 seconds under normal working mode, it displays as follows:
Enter password: (default is 8888), press [ENTER]

Press
[
2
] [
8
]
Press[ENTER]
Move joystick downward to choose the right protocol.
Move joystick rightward to choose the right BR (baudrate).
Then press [

ENTER

] , there will be a 1sec beep sound when setting done.
Press [

ESC

] 3 times to back to normal working mode.
Note: Steps to set all devices to be with same protocol and baud rate are as follows:
Choose the corresponding protocol and baud rate. Then all devices within 0-255 addresses are set with the same protocol and BR (baudrate).