How to control your PTZ Optics cameras with Open broadcaster Software?
How to control your PTZ Optics cameras with VMIX?
How to find your PTZ Camera IP address?
In a local area network, the camera and computer must be in the same segment. The device will not be accessible if without the segment. The camera default IP address is 192.168.5.163, then segment 5 must be added in the computer. Specific steps, refer to page 26 of the user manual. If you want to find the IP address,  then you can use thefollowing methods:
How to restore camera's default user name, password, and IP address in IR remote control?
All Zowietek PTZ cameras' factory default IP address is 192.168.5.163, use Remote Control and press
How to restore to factory default?
How to stream to YouTube& Facebook?
DNS Setting
First of all, make sure that the PTZ camera can connect to Internet. Connect to camera's web setting in browser,Camera web > The Configuration > Configure Network >
DNS:Set the DNS IP the same as your router's IP address, such as 192.168.1.1. Or set as local public DNS address, such as Google's public DNS 8.8.8.8 and so on, dependent on your local region and area.
If don't know how to connect to PTZ camera's web setting in browser, please refer to Quick Start Guide
Second, use your account and password to log into the camera's
administrator interface for further operations.
Third, open the DHCP
Step 4:
Once you have saved all the settings above, your streaming on Youtube
(Facebook)starts immediately, so keep an eye on the stream page.
Notice: Some models may need audio configuration to push stream properly.
So if you finished all the steps above and still can't start your stream, please
follow the steps below.
Go to Audio Configure>Enable Audio Configure>Save settings. 
In conclusion, set up streaming needs at least 3 steps: log in the camera's web
interface, get the info from the platform you want to stream to, use the info
in the right section.
And here is an example of using Zowietek PTZ camera to set up stream to
How to connect with OBS&vMix(NDI models)?
Step 1:
Folllow the steps in the picture on the right to add an NDI source in your
OBS interface.In the thrid step, you need to click on where the arrow points
to and use its listed option as the pictures shows.
Notice: You need to download OBS-NDI plug-in before adding an NDI source,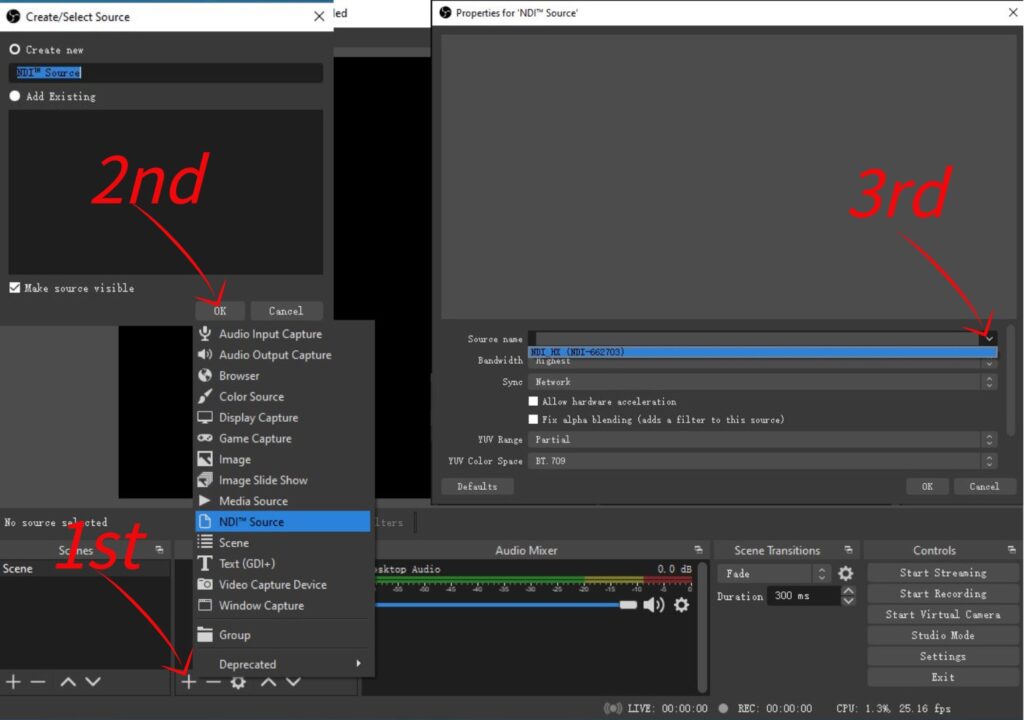 How to change the camera's Zoom Speed?
Unable to turn on your PTZ camera?
How to change preset speed?
How to pull stream through RTSP(VLC)?
First, choose NETWORK for VLC media source. Then log in the camera's web
interface, go to Configuration> Stream Publish, choose RTSP for Protocol
Type, the use Host Address and Stream Name to create an unique network
URL for VLC. Last, click play to start stream. Please refer to the
How to control your PTZ cameras with Open broadcaster Software?
Step 1:
Download plugin. The plugin supports the VISCA serial, VISCA-over-IP, and PELCO-P protocols.
Step 2:
Download address: Https://obsproject.com/forum/resources/ptz-controls.1284/download                                                        
Step 3:
 Install the plugin then go to the main menu on the OBS dashboard and click "Tools"  ,  Select the menu "PTZ Devices"  . 
How to control your PTZ cameras with VMIX?
Step 1:
Open VMIX Software, Click "Configure various Input settings"
Step 2:
Select the PTZ device type that matches your camera from the Device Type dropdown box.