We are currently focusing on OEM/ODM based business. If you are experiencing a technical or service problem, please first contact your dealer whom you purchased the products. You are welcome to contact us directly if you bought products from us. Please read FAQ before contact.
In the event of a hardware failure, please contact Zowietek to verify product failure. Once the failure confirmed, please obtain a Return Material Authorization (RMA) number and fill out the
RMA form
properly in detail. Zowietek reserves the right to refuse the shipment that do not have an authorized RMA number or that do not follow the shipping instructions on
RMA form
. If RMA requested items was not received from the customer within thirty (30) days of the RMA assignment date, the RMA will be closed.
RMA product in valid warranty period will be repaired or replaced with new or refurbished parts free. A product whose warranty period has expired or which has been damaged or misused may be determined to be out of warranty. It will be repaired or replace for a fee.
Original packaging should be used in available to minimize the potential for shipment damage. Board product must be enclosed in an anti-static bag to avoid ESD damage. All RAM returned items must follow the shipping instruction on
RMA form
. Otherwise, Zowietek don't take any responsibility to the tax, delay, damage or refuse. The customer is responsible  for paying the shipment charges when returning the product to Zowietek. Zowietek will pay for the shipment of the repaired items under warranty policy.
RMA form
can also be downloaded in
document
under support section.
How to format large disk to FAT32
Sometimes we have to format a large, for example over 32GB, SD card, USB Flash Drive or USB mobile hard drive into FAT32 format. The simplest way is use Windows DOS. Open a command window by going to
Start
, then
Run
and typing in CMD. Now type in
format /Q /FS: FAT32 X:
Replace the letter
X
with the letter of your external hard drive in Windows. Windows will go ahead and begin formatting the drive in FAT32!
If the disk capacity is over 1TB, 3rd party free tools has to be used. The first one is
FAT32Formatter
from Tokiwa. No installation required, select the partition to and format to FAT32.  The second free tool is
Verbatim FAT32 Tool
which will allow you to convert disk drive to FAT32 in seconds. The 3rd one is
FAT32Format
that you can get job done. This is the best and only recommended one so far. No installation required.
How to get a RTMP(S) URL?
For example: Facebook
Go to your Facebook account.
Create a post -> More -> Live Video.
Select "Use Stream Key".
Copy the Server URL & Stream Key
Paste them into RTMP(S) address setting section of encoder.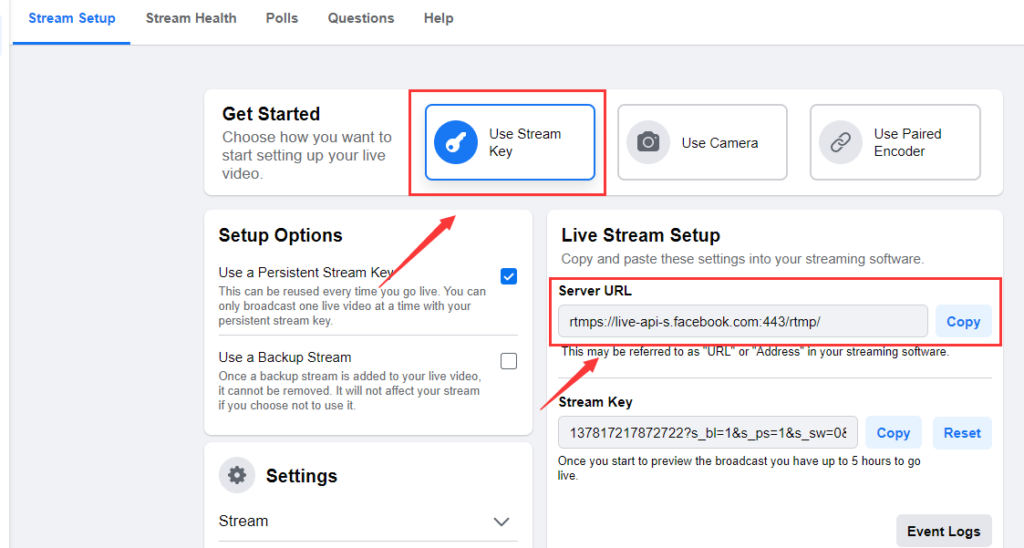 How to update the firmware?
Download the new firmware on our product's page.
Turn on the device.
Attention: Keep the encoder connecting power and internet during the upgrade, the upgrade process cannot be interrupted, otherwise the encoder cannot be restored.